IIJmio, number one※1share in low-price SIMs market share
Use your smartphone for less.
miofone is a great-value SIM that allows you to make voice calls with your Japanese phone number.
We recommend it to anyone who would use all of their smartphone's functions.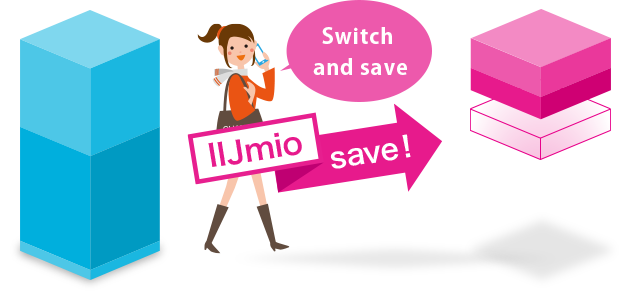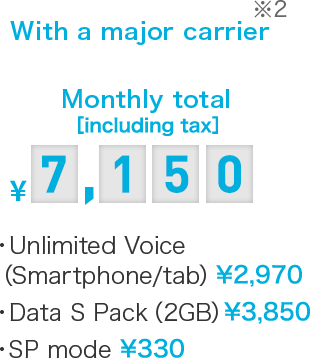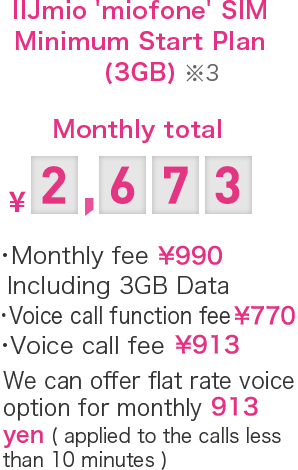 With two-year continuous use,
save as much as
※2 Carrier charge compared to NTT Docomo "Unlimited Calls Plan (smartphone/tablet)" and "Small Data Pack". Data connection includes the "SP Mode" monthly fee. This does not include the device purchase price or any device discount fee.
※3 The IIJmio fee is calculated based on using the miofone "Minimum Start Plan" with the "miofone Dial" service for 30 minutes of domestic calls. Calculated based on a user who mainly receives calls and infrequently makes calls. This is not a comparison based on identical call volume/data usage.
Reliable quality and function
Wide coverage area with
LTE high-speed data.

Compatible with NTTdocomo or KDDI wide radio networks, you can enjoy it in both rural and urban areas.※4
We also offer international calls with miofone. For details of international calls, please click here(written in Japanese)

※4 Area coverage is affected by the radio specifications of the handset.
Carry over unused data
to the next month.

The unused bundled data can be carried over to the next month. You need not worry about wasting bundles.
Compatible smartphones/tablets
IIJmio's low-cost SIMs can be used with many SIM-unlocked devices,
and NTTdocomo devices sold in Japan, including iPhones.
If you would bring your own device, be careful you should check your device being unlocked.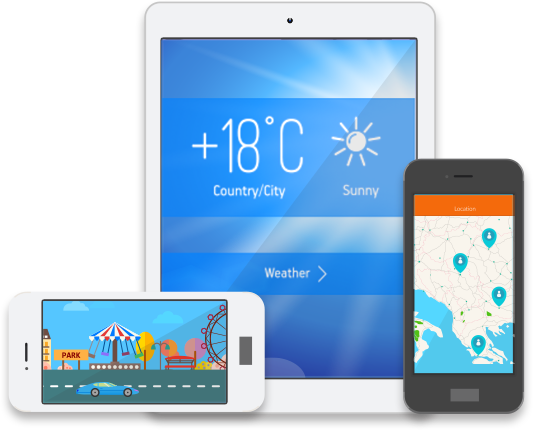 You can purchase SIM-unlocked smartphones or
tablets at IIJmio Web site, either with or without SIM contract.
Click here to purchase SIM-unlocked smartphones/tablets.(written in Japanese)
Price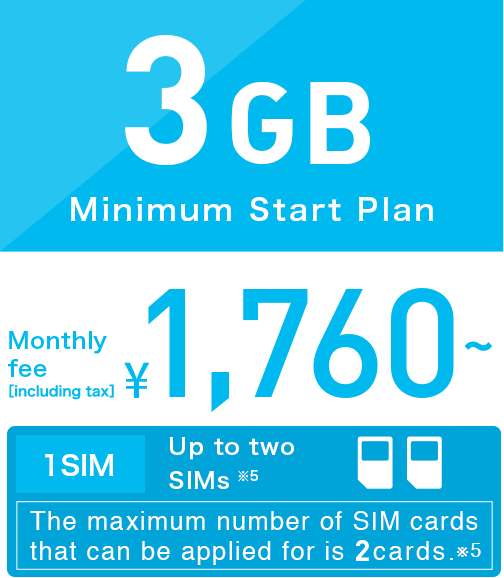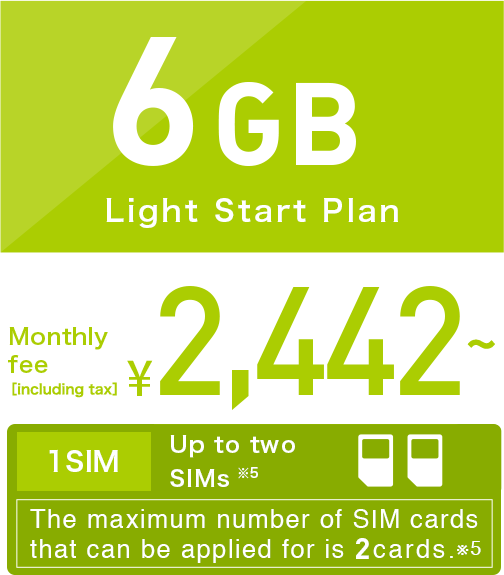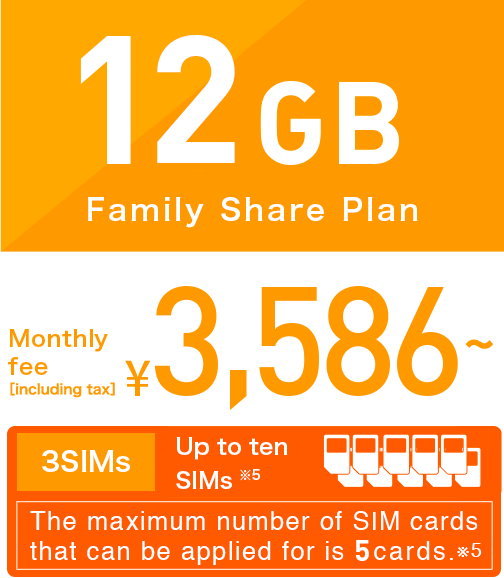 ※"Type D"is a service which uses NTT docomo LTE and 3G networks. SIM-unlocked devices or NTTdocomo's devices are compatible.
※"Type A"is a service which uses KDDI 4G LTE networks. SIM-unlocked devices are only compatible. In addition, be aware your device must support au(KDDI) VoLTE or it could not work properly.
※Each customer may subscribe to up to five SIM with the voice capability.
※5 The maximum number of SIM cards issued when applying for a new plan is 2 cards under the Minimum Start Plan and Light Start Plan and 5 cards under the Family Share Plan.
※5 You will incur additional SIM usage fees when you start using a 2nd or additional card under the Minimum Start Plan and Light Start Plan and a 4th or additional card under the Family Share Plan.
※5 Also, additional SIM card fees, additional SIM usage fees, various ancillary fees, etc. will be separately required for the 2nd card under the Minimum Start Plan and Light Start Plan and the 4th and additional cards under the Family Share Plan.

How to order
Be ready all those below before you start the online procedure.

Address in Japan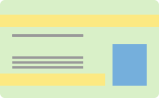 Personal identification documents

Phone number in Japan

E-mail address
(We'll send all necessary information to your email address)

Credit card owned by the customer

MNP reservation number(Only when you want to keep your current phone number)
Once you're ready, you can start using IIJmio in three easy steps!

Q&A
Can I use full data bundle for the first month?

No. Both Data bundle and fee for the first month are on a prorated basis.

Can I change my price plan?

Yes.You can apply from the member's page(written in Japanese). Your request of changing your price plan will apply in the following month.
※You can not make the application of changing your price plan at the last day of month.

I would change the contractor's name. Can I make this?

No, we do not accept the change procedure of contractor's name.

How do I order the additional SIMs?

You can apply from the member's page(written in Japanese).

Does IIJ accept payment methods other than credit card?

No. We accept only credit cards for payment.
In addition, credit cards issued by the foreign companies may not be acceptable.

How do I contact your support team for troubleshooting?

We provide customer support at IIJ support center by phone and web form. Please note that our customer support are provided only Japanese language.
IIJ support center(everyday/9am to 7pm)
TEL : 0570-09-4400
If you can not call properly above, please try to call 03-5205-4400 (everyday/9am to 7pm)

We provide the answer for your question except any kind of inquiries via Twitter @iijmio (English is available)
Our service was awarded as the No.1 ※4
Customer satisfaction in the low-price SIMs
IIJmio is the largest Japanese MVNO service for the consumers provided by Internet Initiative Japan, one of the pioneers of the Internet. For our 25 years history, we continued to provide innovative, secure, reliable and state-of-the-art services and solutions for enterprises, SMBs and governmental bureaus etc.
※4 MMD Institute "satisfaction investigation into SIM service bargain in March, 2016"